A new wave of restaurants has arrived in Aspen and they're coming in hot — literally.
Chica, the new Latin American restaurant led by celebrity chef Lorena Garcia and brought to Aspen by 50 Eggs Hospitality Group, officially opened Dec. 2. Over the past week, Chica's been lighting up the après and nighttime dining scenes with elaborate cocktails and dishes such as "The Flaming Skull" — a gold-sugared skull set on fire to reveal a lava cake, paired with traditional Horchata ice cream.
The flaming dessert is an experience in itself — one of the many intricate skills the new staff has been trained to do.
According to 50 Eggs Founder and CEO John Kunkel, Chica currently has about 60 employees, "almost all hired locally." A "big training support force" has come to Aspen from Las Vegas and Miami — Chica's other two restaurant locations — to help with training and operations. The outside team has been on the ground for over a month now, Kunkel said.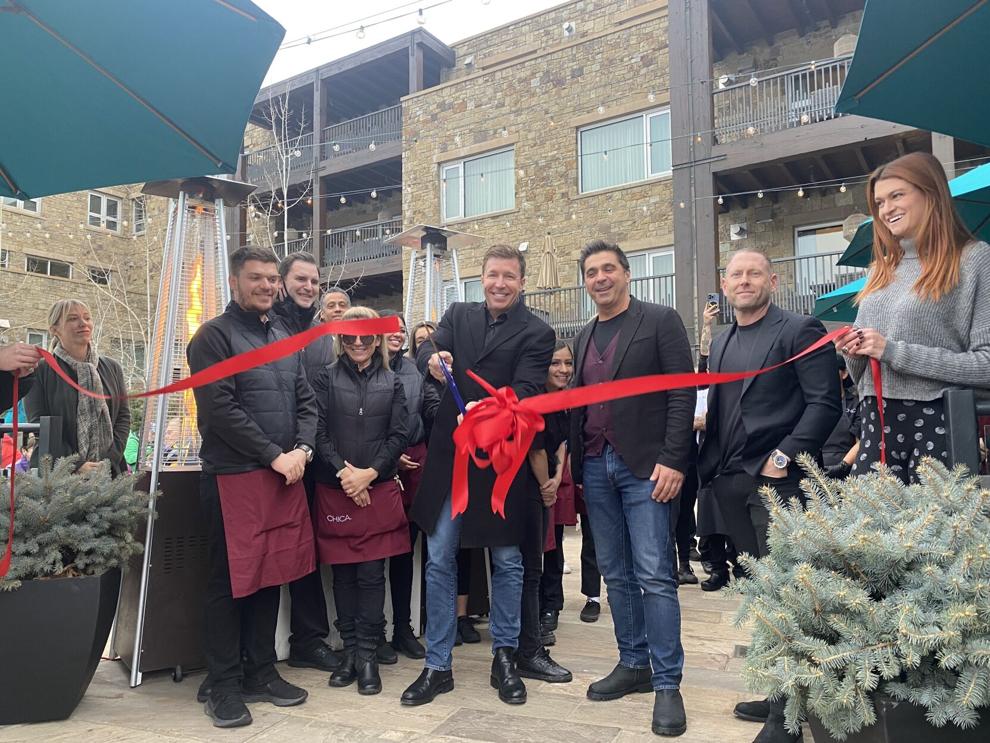 "We really spend an exorbitant amount of time training before, during and after, and then we'll leave some of our key team members on the ground throughout most of the season to make sure all operations run well," he said. "And the training has gone extremely well, there's been wine courses, mixology and cooking classes, serving classes — you name it."
In an initial press release, the restaurant group announced that Chica was looking to fill nearly 103 full- and part-time jobs prior to opening. Kunkel explained that on a global scale, in his 30 years of being in the restaurant business, this is the hardest time ever to hire employees. 
"I think we looked at this market with a little trepidation going, OK, if it's hard hiring everywhere else, it's going to be even harder here," Kunkel said. "So fortunately, right out of the gate, we were able to hire almost 60% of our staff and find fantastic people to join our team."
He explained how Chica is currently only operating for après ski-hours and dinner services, but as the restaurant extends its hours and meal periods to include breakfast, brunch, lunch and a nightlife scene, its staff will expand as well.
Kunkel said everything's on track and he feels confident that more people will start applying for jobs after the first of the year and as the season picks up.
Positioned at the base of Aspen Mountain inside the Residences at the Little Nell, Chica takes over the central Aspen après-ski spot for more than just the winter season — the restaurant signed a long-term lease for the space, according to Kunkel.
Kunkel, who lives in Miami Beach and has been coming to Aspen for nearly two decades, jumped at the opportunity to open one of his restaurants here. When approached by the landlord at the Little Nell Residences, Kunkel understood that there was a desire to have more of a culinary-driven restaurant in the space.
"It was a very quick process compared to a lot of our other restaurant openings, and then it was a matter of what to put here because we're a multi-concept company," Kunkel said. "But we really felt like Chica would be the best fit and add something new to the dining scene in Aspen.
"It's a fun, sexy, high-energy brand, which plays into the après-ski happy hour," he continued. "The food is something that isn't really represented here, and we also felt like we could do something fun with the space — really give it a personality."
From the outside bar and patio area to the dim-lit and intimate, yet upbeat ambience of the inside space, Chica's personality is warm and welcoming. The venue has already brought in a number of local DJs to play sets during après hours, and the Latin-inspired interior enhances the overall cultural culinary experience.
Based on various community conversations, Kunkel also understood that being a long-term member of the community rather than doing a pop-up for ski season was essential. It aligned with the way 50 Eggs operates all of its restaurant locations.
"One of the keys for us is that we open restaurants with locals in mind, and what that means for me is that there's always something interesting and new — seasonally, menu-wise and cocktail-wise, highlighting different entertainment series along the way — and also taking care of people, recognizing our local guests, remembering their names, what they like to drink and eat," Kunkel said. "Particularly now with COVID and the town growing so much with their full-time residencies, we've really looked at how we can operate year-round — we're here to stay."
New menu for Casa D'Angelo
Chica is not the only new restaurant that says it's here to stay. Casa D'Angelo, the traditional Italian restaurant that moved into the space vacated by Piñons and opened amid the busy summer season, is gearing up for winter with a new menu to be implemented next week, according to celebrity chef and Casa D'Angelo owner Angelo Elia.
Elia, who was born in Salerno, Italy and now lives between Southern Florida and Snowmass, owns nine Italian restaurants across southern Florida and the Bahamas and had always dreamed of opening one in Aspen, he said.
"I made the deal with the old owner in one hour and the next day, I got to work," Elia said. "When we first opened four months ago, it was such an incredible feeling for me and my wife — personally one of the best openings out of any of my restaurants."
Casa D'Angelo remained open during the off-season months of October and November and as an on-season returns, Elia said reservations are "off the chart" and the restaurant's New Year's Eve Italian-inspired, five-course, "white-gloved service" seating is almost sold out.
In terms of staffing, Casa D'Angelo has maintained around 60 employees since opening, with little to no turnover, according to Elia. As the restaurant's newest addition, Elia is bringing in an "Italian star chef" to work with his team in Aspen.
"I've been very fortunate in finding the right people to work, who are dedicated and believe in our concepts," Elia said. "For me, service is most important — I want professional servers — our focus is service, service, service, and my expectations for quality will never change, in terms of food, service and experience."
Casa D'Angelo also recently held a ribbon-cutting ceremony, celebrating another grand opening to kick-off its winter. With aspirations to engage the community in restaurant's offerings, Elia and his team welcomed local leaders, including members of the fire and police departments as well as Aspen Mayor Torre.
"It was so great to be at Casa D'Angelo for the event; the restaurant is comfortable, the food is delicious and the staff is great," Mayor Torre commented in an email. "Denise agreed that they are focused on great dining, taking care of employees, supporting the community and the environment."
Elia explained that opening a restaurant in a well-known and demanding location, with guests and locals who are exceptional in food and wine knowledge, is a tough endeavor.
"It's a major chance you take opening a restaurant in Aspen, and I made it my priority that I did everything right from day one," Elia said. "We want to express our best to Aspen, the most beautiful little place in the world — a jewel."
As Aspen's rich culinary culture continues to attract new outside restaurants — Catch Steak will open its Aspen location on Wednesday — both Elia and Kunkel are determined to adapt their dining styles locally while also bringing in some of their own novelties.
"What's neat about Aspen is many of the restaurants out here have been around a long time, and people like what's familiar — they like to be recognized, they like to see the manager or owner on the floor — those are some of the nuances of being here that you must participate with," Kunkel said. "This type of a restaurant in this type of a town takes a much higher touch than in any other city, and we already have so many amazing people in our management and service staff who understand that and have worked in the market. We just can't wait for Aspen to come check us out."
https://www.aspendailynews.com/news/new-wave-of-aspen-restaurants-chica-and-casa-d-angelo/article_9bc92ece-5a28-11ec-ab78-8f621d991157.html