Kids excitedly perused colorful rows of fresh fruits and vegetables inside a San Antonio Food Bank truck on Friday.
Mountain Valley Elementary School students got to learn about healthy produce from local farms through the "Mobile Mercado" program.
The food bank drives its "Mobile Market" food truck to various locations including Comal ISD elementary schools to teach them about healthy eating, food insecurity and the food bank's mission. 
The district wanted the truck to visit every elementary school during October, but due to food shortages and COVID, they chose Mountain Valley Elementary for a Friday event.
"We chose Mountain Valley because they haven't had the Mobile Mercado in the past," Comal ISD resident dietician Sylvia Picazo said. "I also think that area could benefit since it's out there in Canyon Lake. We thought it would be a good message to kids and parents."
The district's partnership with Mobile Mercado falls under the Texas Department of Agriculture's Farm Fresh Initiative's "Homegrown & Healthy" campaign.
This program connects local schools with Texas agriculture to promote buying food from local farms and teaching children about nutrition. 
Outside the Mobile Mercado, Comal ISD Chef Mario Perez gave out samples of local broccoli and recipes for broccoli salad, which calls for cranberries and a healthy yogurt dressing.
"They're accompanied with a recipe each time so they know how to prepare what they just experienced and to be able to go home and tell mommy and daddy 'This is what I want for dinner," Perez said. "It's so much fun, seeing their faces getting excited and jumping up and down."
The state program outlines certain requirements. For example, local food is defined as being within about 400 miles, Picazo said.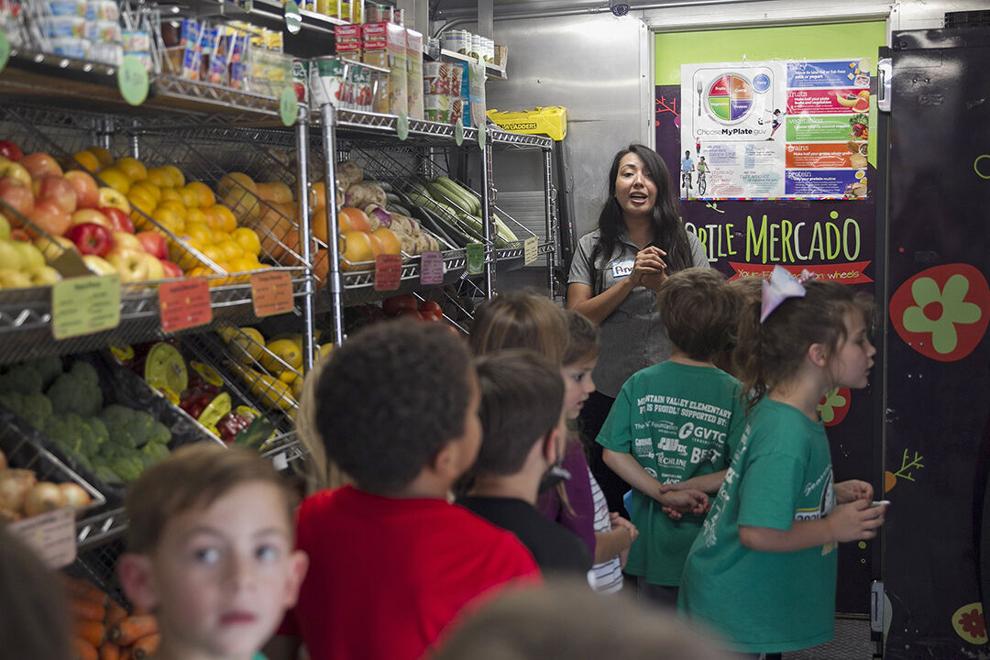 All of the foods ordered are fresh produce or frozen without added sodium and in their natural state. 
The district also buys canned fruit or vegetables, but they must be low in sodium and sugar if any and have no additives.
Comal ISD has previously bought produce from Hardie's Direct online groceries based out of Austin.
In the past, the San Antonio Food Bank worked with one of the biggest farms in Pearsall that grew tomatoes, which the district sampled for a Mobile Mercado event.
Perez said teaching children about nutritious food began around the time he came to Comal ISD.
"I encourage children to taste various fruits and vegetables and to learn about them," Perez said. "Like eggplant, figs, asparagus, things as such that are not what they would normally have."
The Mobile Mercado brings food to those in food deserts, where access to nutritious and affordable food is limited.
People can register for the "Fruit and Vegetable Prescription Program" where health care provider patients receive vouchers for free produce, about 12 to 15 pounds of it, and other assistance. The truck travels on a schedule, but it can be visited at any time and be requested for a location.
The program does not ask for income status or any other reason why someone needs assistance. If someone is not registered, products can be purchased with money, Lone Star Cards or food stamps.
Farmers Market Mobile Mercado manager Ana Chavez said the program wants to be more inclusive since people's backgrounds and needs vary.
The program only asks for demographic information, such as race and age and gender identity, to see who may be falling through the cracks.
"We want to be more inclusive because sometimes it's different," Farmers Market Mobile Mercado manager Ana Chavez said. 
Comal ISD's meals for this school year are all free, including breakfast and lunch. 
Perez said besides the program, he usually visits schools to ensure students learn about healthy eating.
"I strive to have fun whenever I'm on the line and whichever campus I'm at I make sure they know I'm there," Perez laughed. "I get asked all the time if I can give them a [chef's] hat. It's been a lot of fun these past eleven years, I've really enjoyed it and it never gets old. Sometimes I'm asked 'When are you going to retire?' I'm not going to retire, that's not even in the thought, not in the plans."
For more information on the Mobile Mercado, go to https://safoodbank.org/mobilemercado/
http://herald-zeitung.com/community_alert/article_e352703c-320c-11ec-a7a0-33db530cb748.html