As soon as the weather gets cooler, my friends and I are pretty much always game for sharing a big pot of soup. When we gather to meet during the week, we take turns making different pots of soup that we can share. Turkey chili, minestrone, creamy pumpkin, chicken tortilla—the list goes on. And although we love to drown our soup with all kinds of toppings and dip fresh-baked slices of sourdough bread into our bowls, soup is still a relatively healthy meal to enjoy during the season. In fact, there are numerous soup recipes out there that can even help with your weight loss goals—if that's something you're looking for.
From slow cooker soups to quick chilis and copycat restaurant favorites, here are some of the best soup recipes to make this fall that can even help you with weight loss. Then, be sure to check out our list of the 100 Easiest Recipes to Make for even more healthy meal inspiration.
Nothing beats a classic chicken noodle, especially when the slow cooker makes this popular recipe ten times easier to make.
Get our recipe for Crock-Pot Chicken Noodle Soup.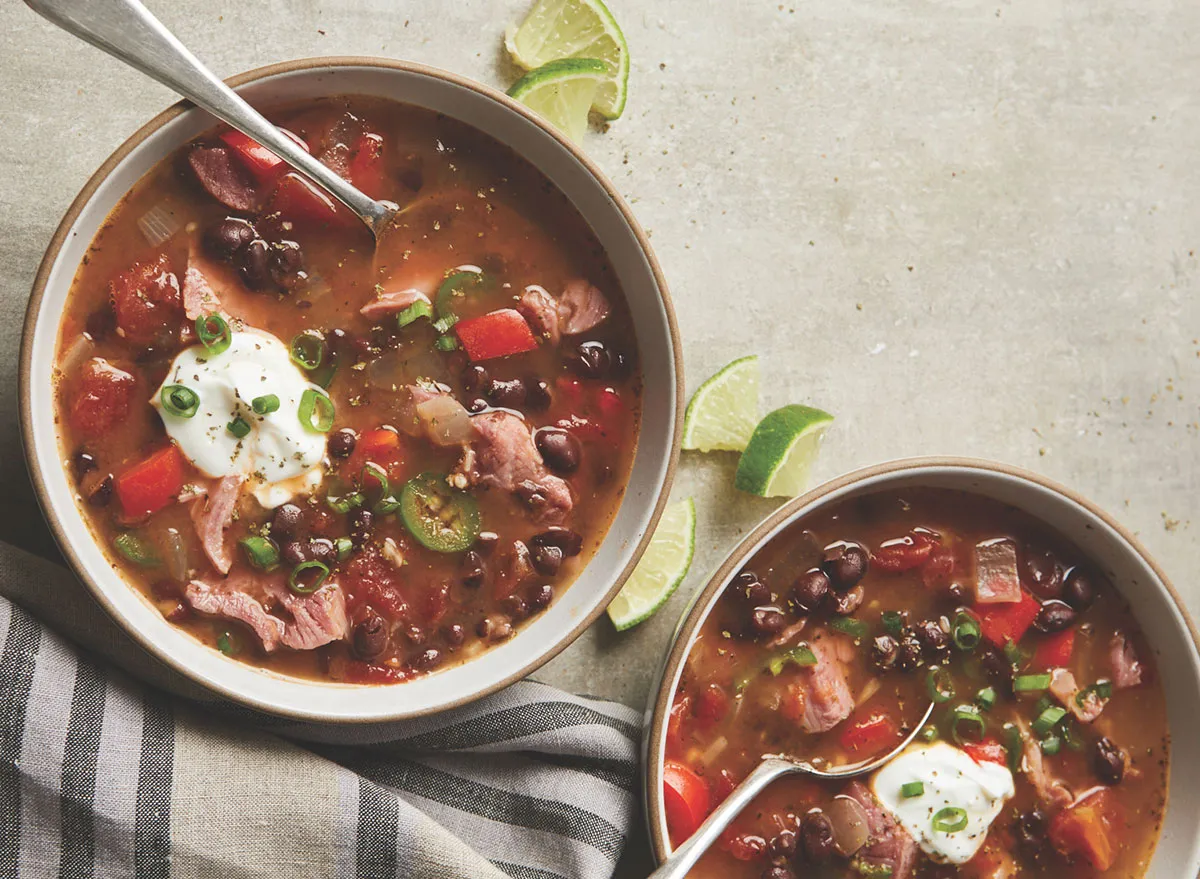 If you're a fan of Panera's black bean soup, we promise you are going to loves this flavorful version made with tomatos, and cuban spices.
Get our recipe for Cuban Tomato and Black Bean Soup.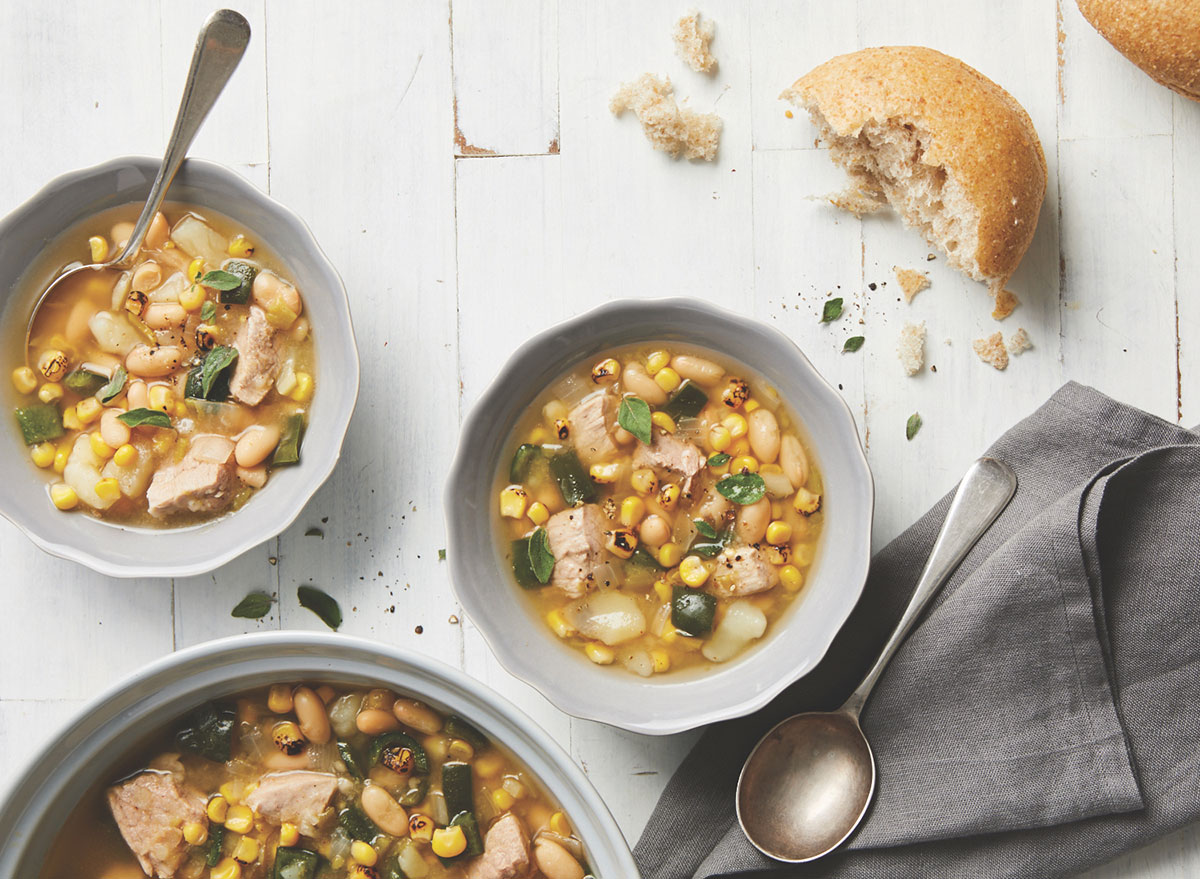 Use up leftover pork with this easy slow cooker green chile soup, filled with cannellini beans and pork tenderloin.
Get our recipe for Green Chile Pork Soup. 
It's your favorite bowl of noodle soup with a flavorful twist, made with lean beef and Japanese udon noodles.
Get our recipe for Hearty Asian Beef Noodle Soup.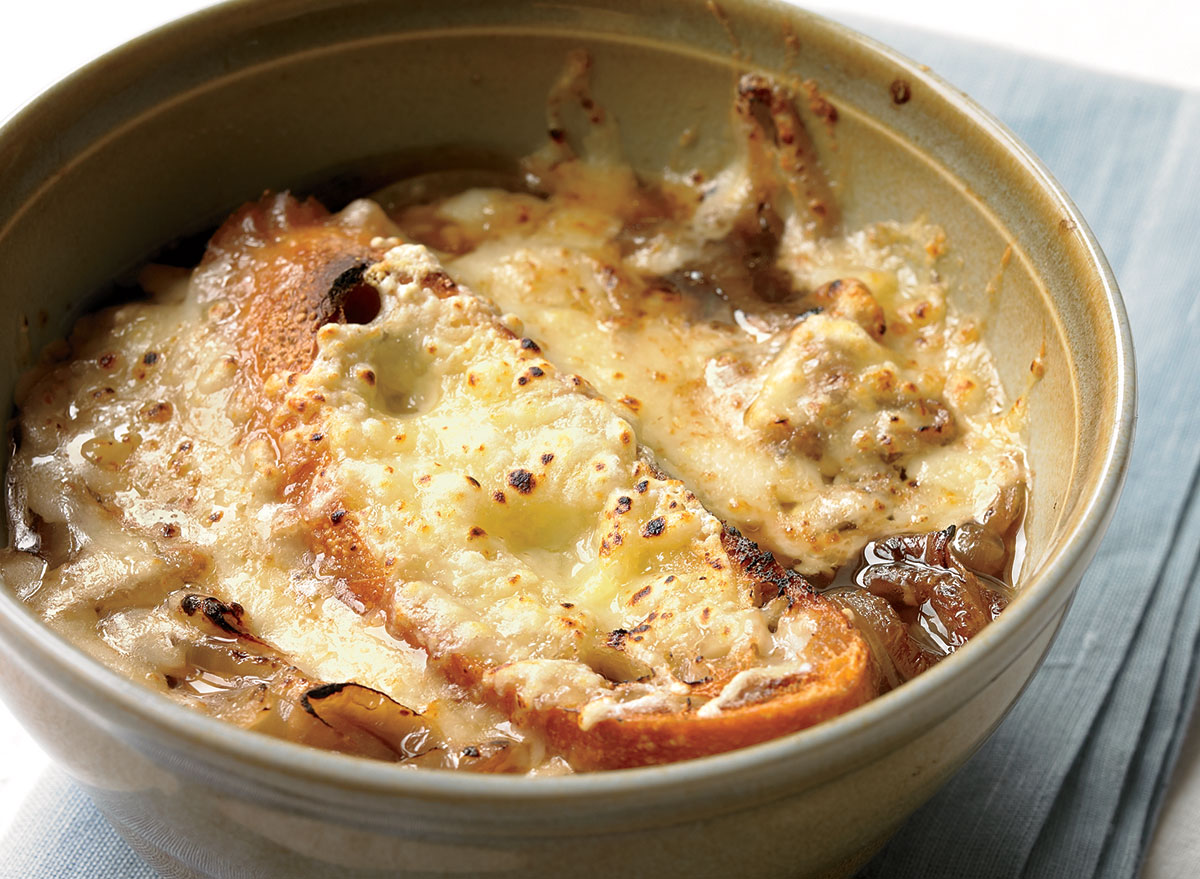 French onion soup isn't as unhealthy as you think, especially when you make our delicious version!
Get our recipe for French Onion Soup.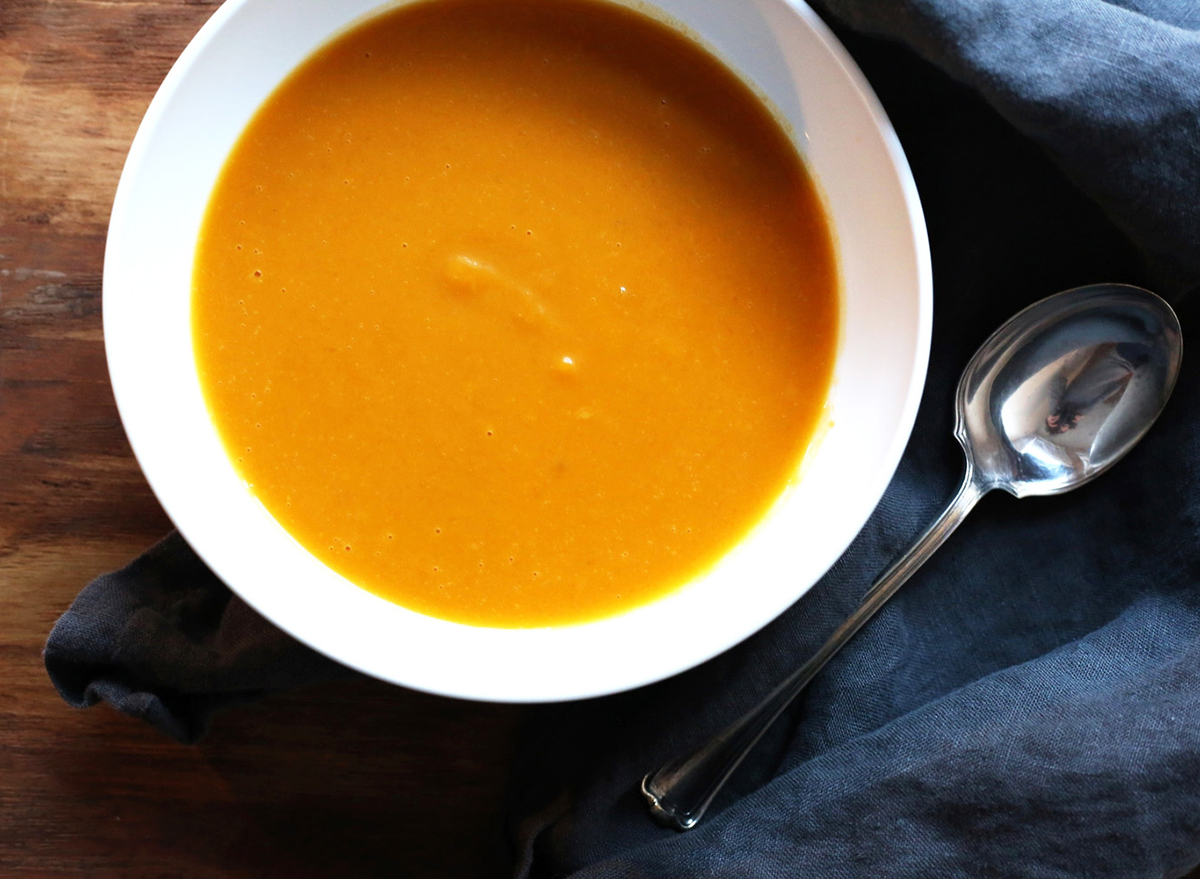 Between the rosemary and the butternut squash, this soup is the perfect fall-time meal to enjoy with friends. Or even the perfect appetizer for your Thanksgiving festivities!
Get our recipe for Rosemary Butternut Squash Soup.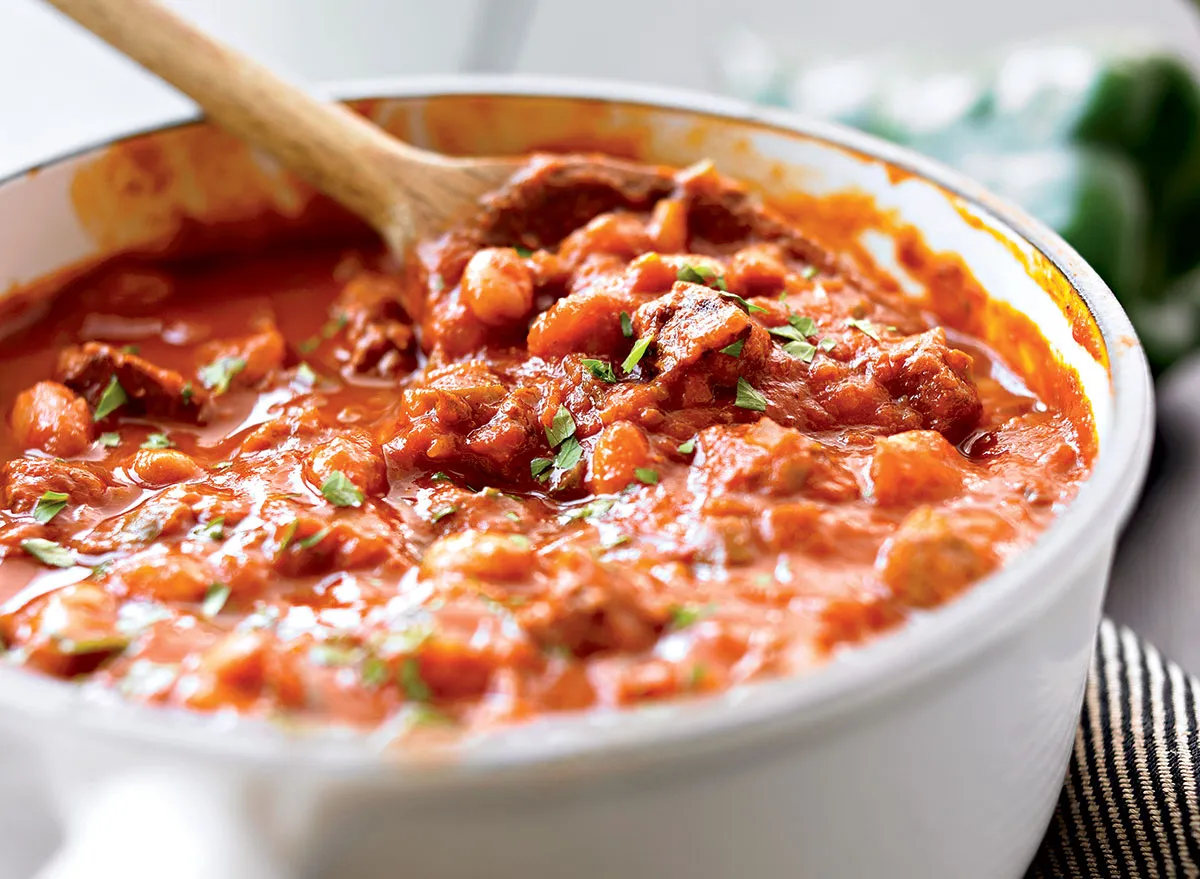 Keep your chili lean by using ground turkey and lots of hearty white and pinto beans.
Get our recipe for Turkey Chili.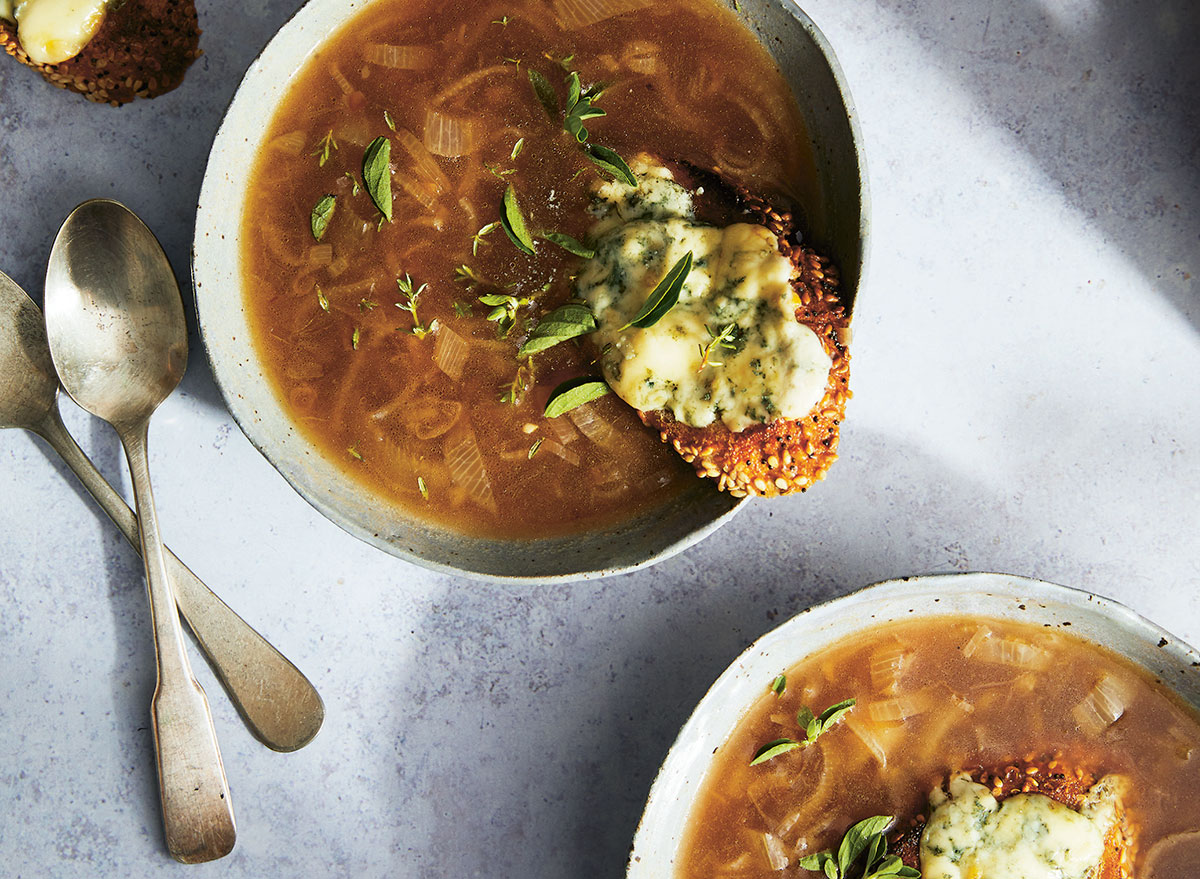 A fun twist on the classic French Onion soup!
Get our recipe for Roasted Shallot Soup with Gorgonzola Croutons.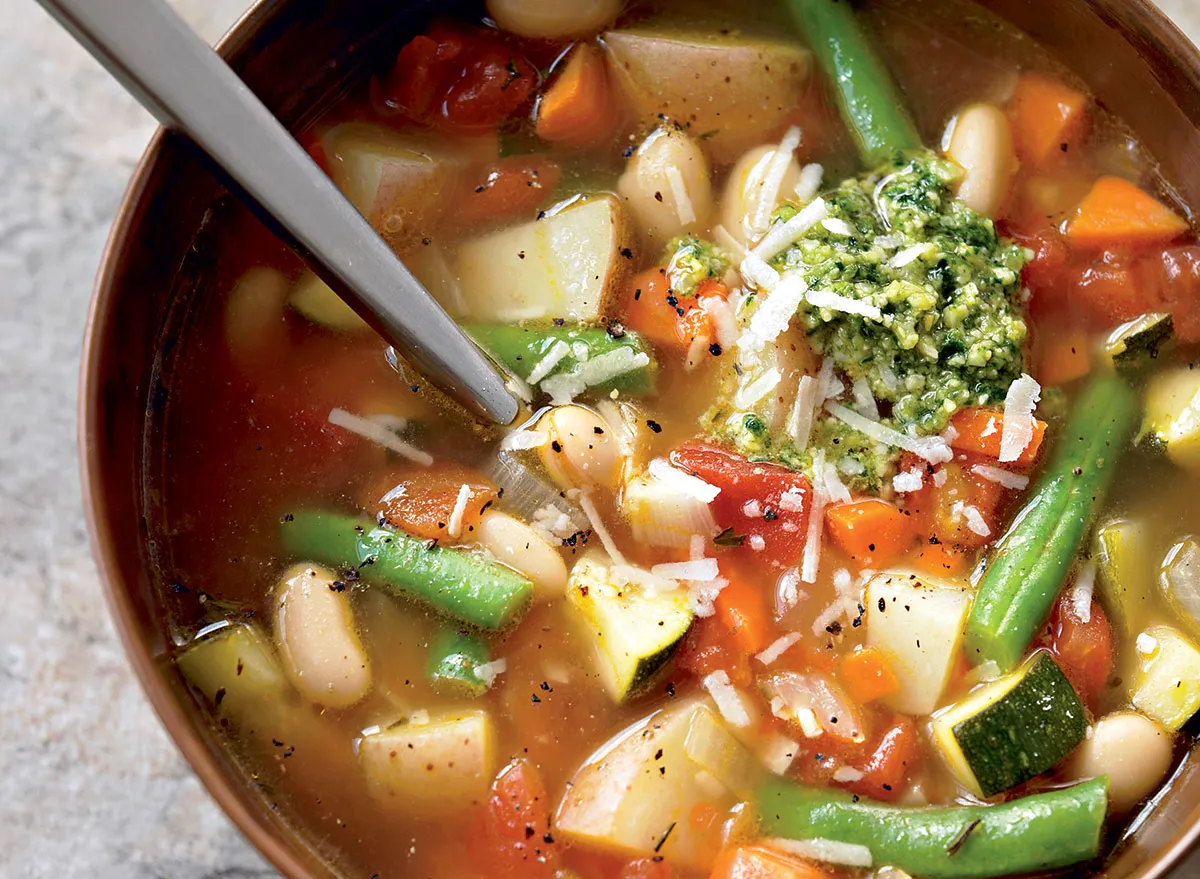 Use up the leftover vegetables in your fridge and throw together this minestrone soup recipe! Top it with herby pesto and parmesan cheese for a refined finish on an easy-to-make soup.
Get our recipe for Minestrone Soup.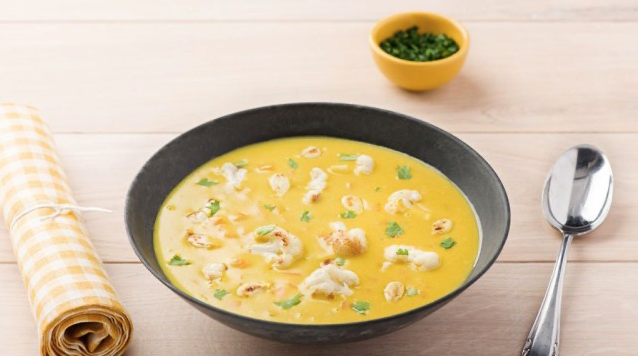 Enjoy your favorite fall vegetable with this pumpkin soup, with an extra boost of fiber from the cauliflower and other hearty vegetables!
Get our recipe Pumpkin and Cauliflower Soup.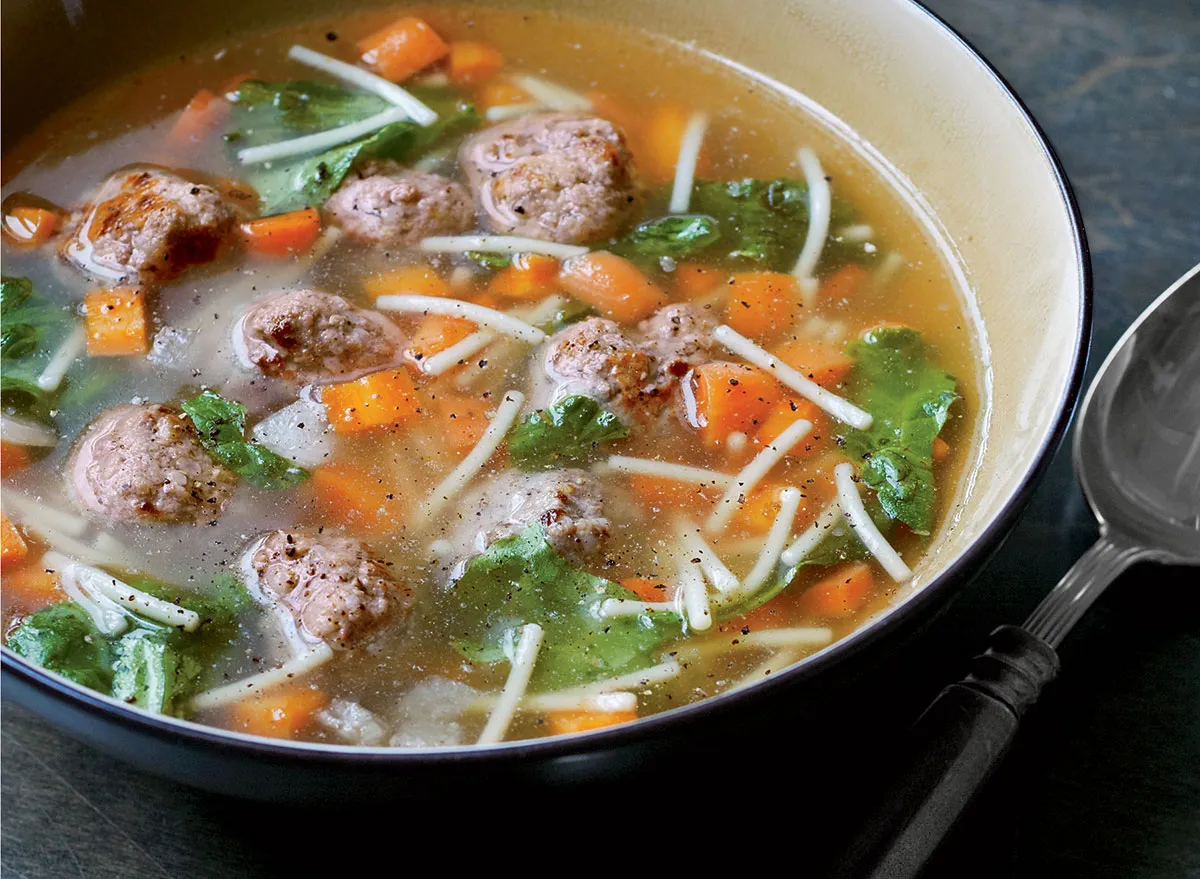 This classic soup is full of fatty meatballs and soupy vegetables that makes for a perfect filling weight loss meal.
Get our recipe for Italian Meatball Soup.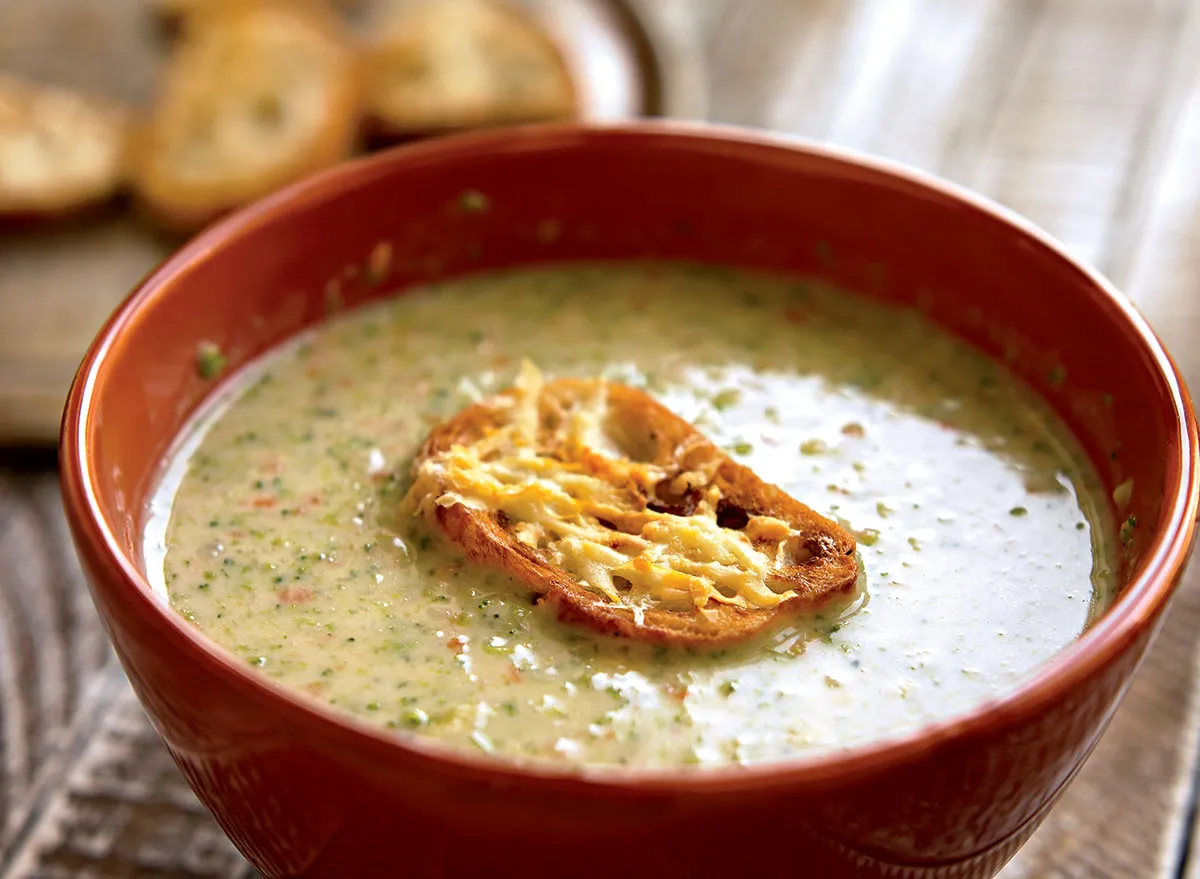 Enjoy this classic favorite from Panera, but a much healthier version that can help with losing weight!
Get our recipe for Broccoli-Cheddar Soup.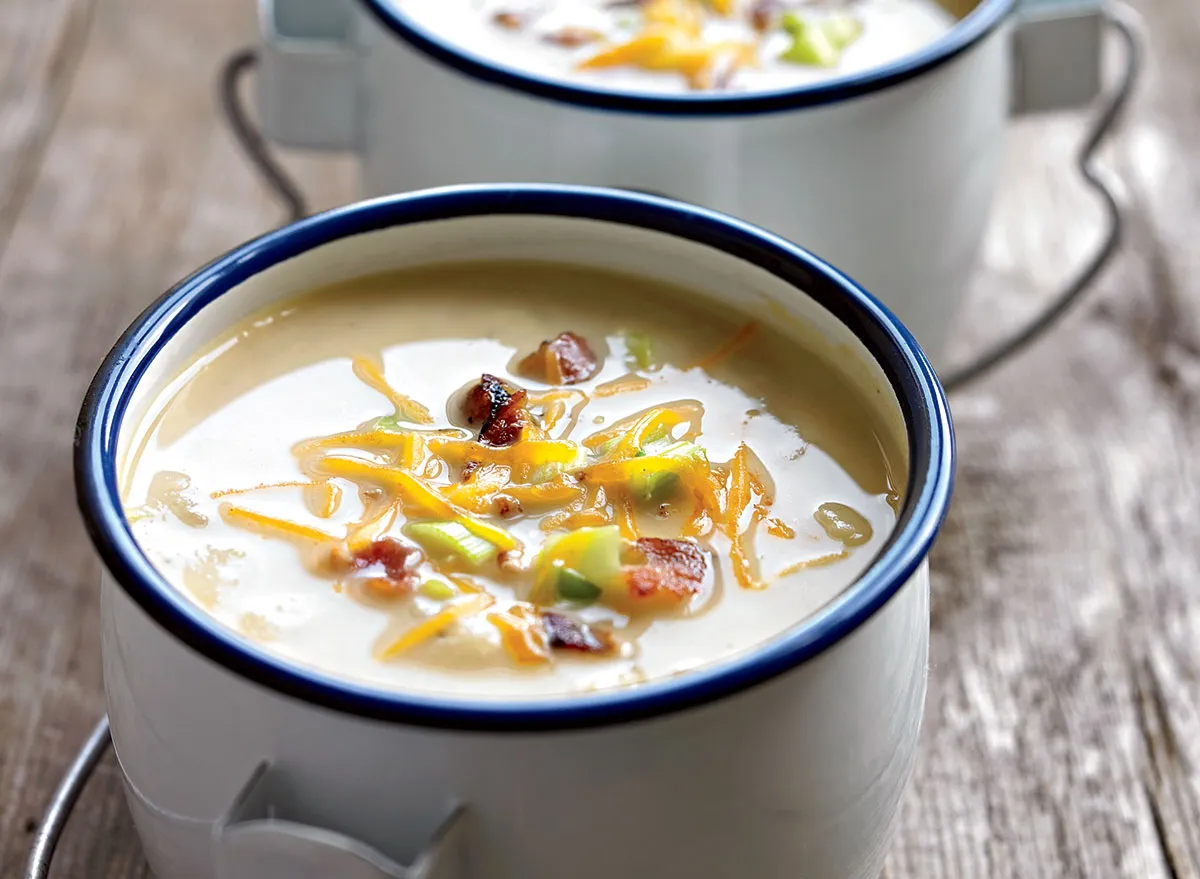 Potatoes are full of fiber, which helps with weight loss, so enjoying a hearty baked potato soup is a great choice for a lunch if you're trying to lose weight.
Get our recipe for Baked Potato Soup.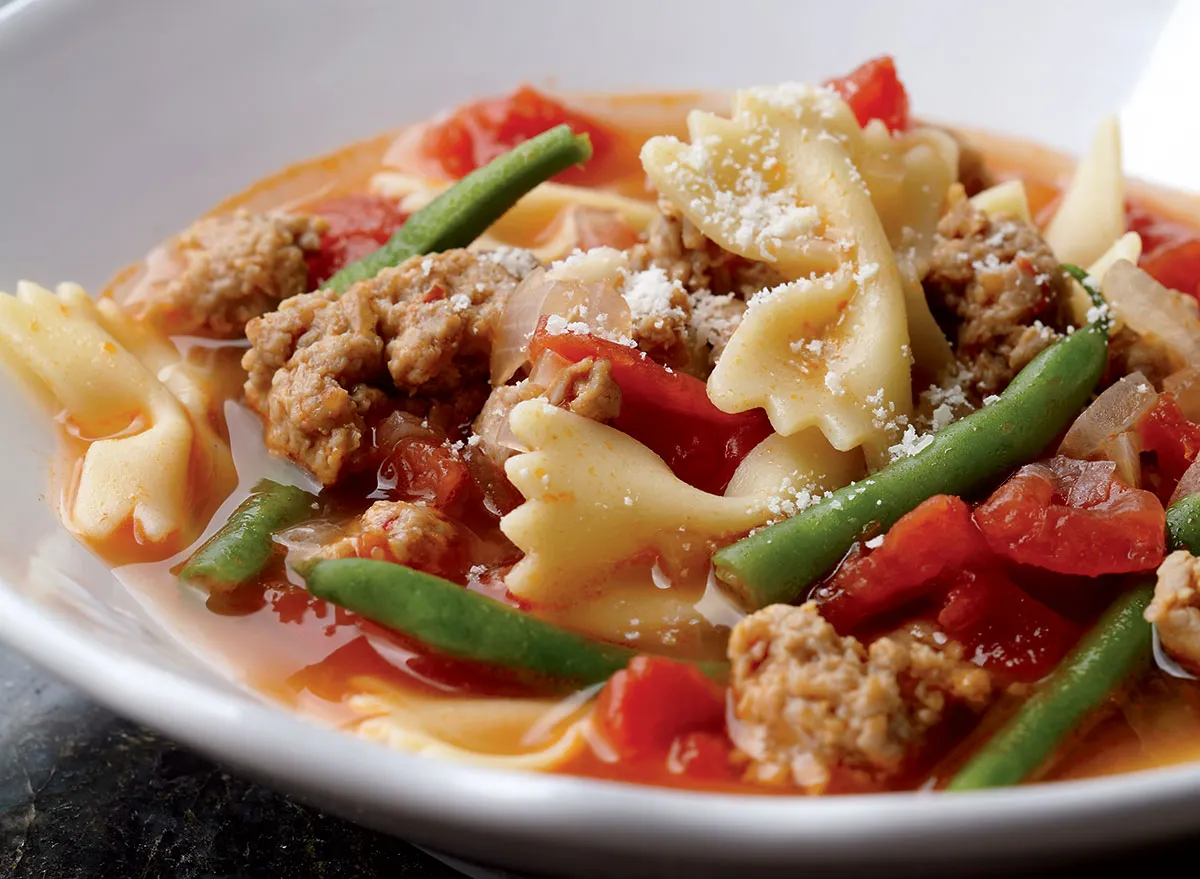 This hearty soup seems more like a pasta dish, but still sits in a fatty broth that almost feels like it's the last thing you should be eating for weight loss, but we promise, it's still a healthy option!
Get our recipe for Italian Sausage Soup.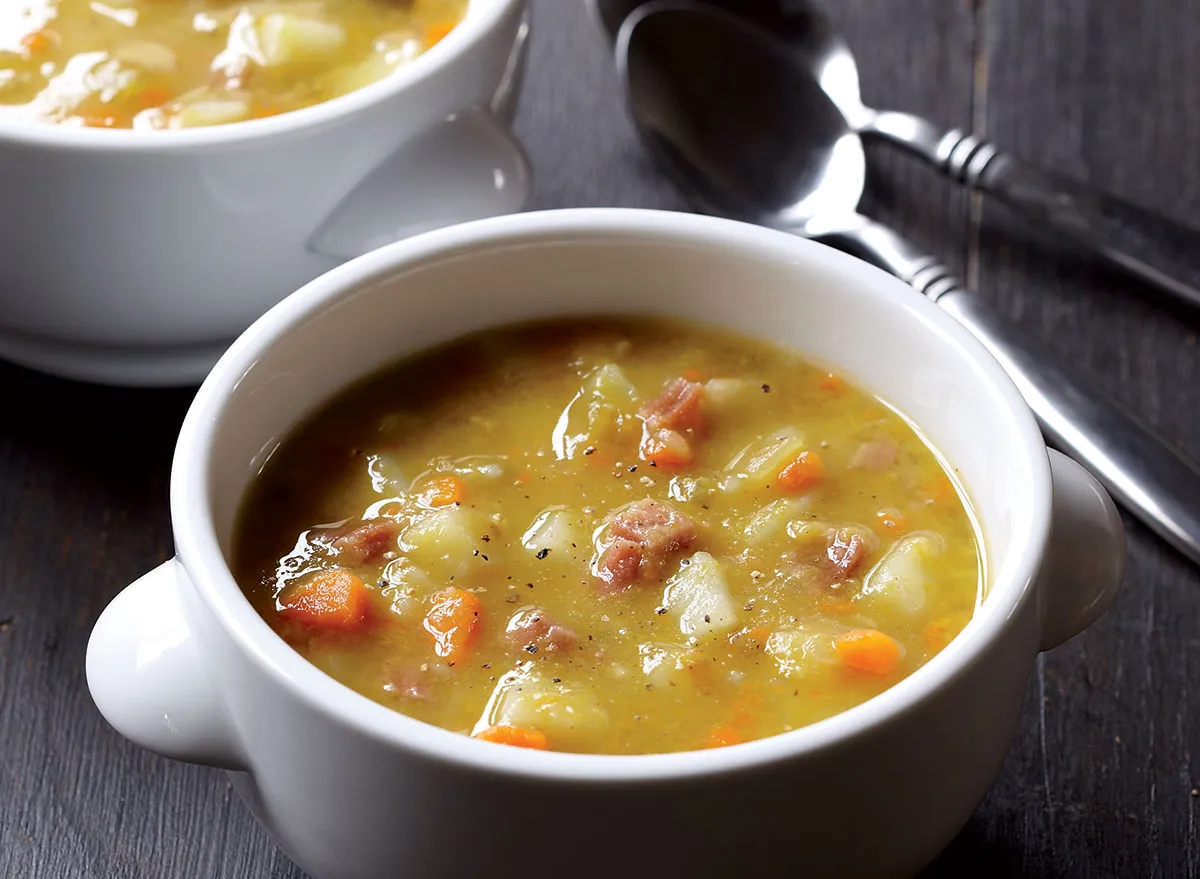 This recipe uses a smoked ham hock for a filling protein that will keep you satisfied for the rest of the day.
Get our recipe for Split Pea Soup.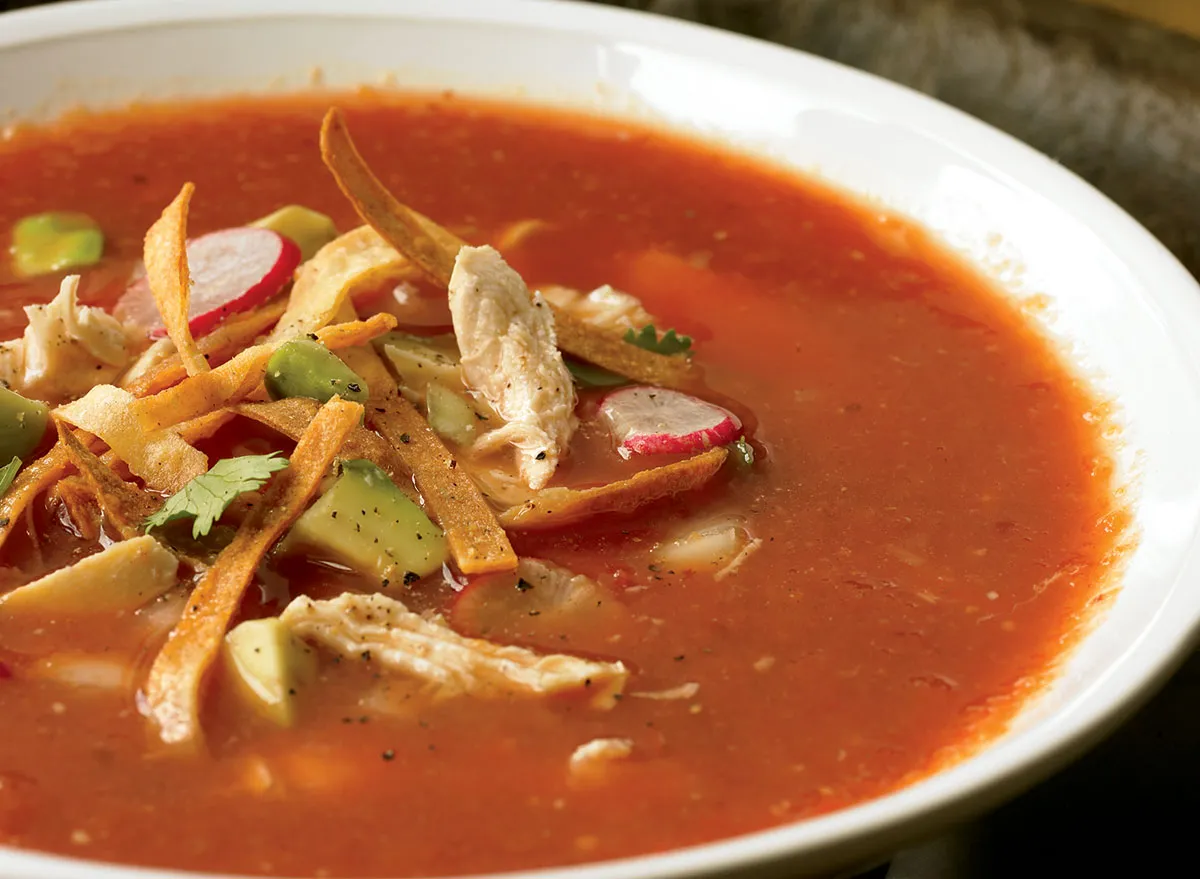 A spicy tortilla soup on a cold, fall day? Count us in!
Get our recipe for Tortilla Soup.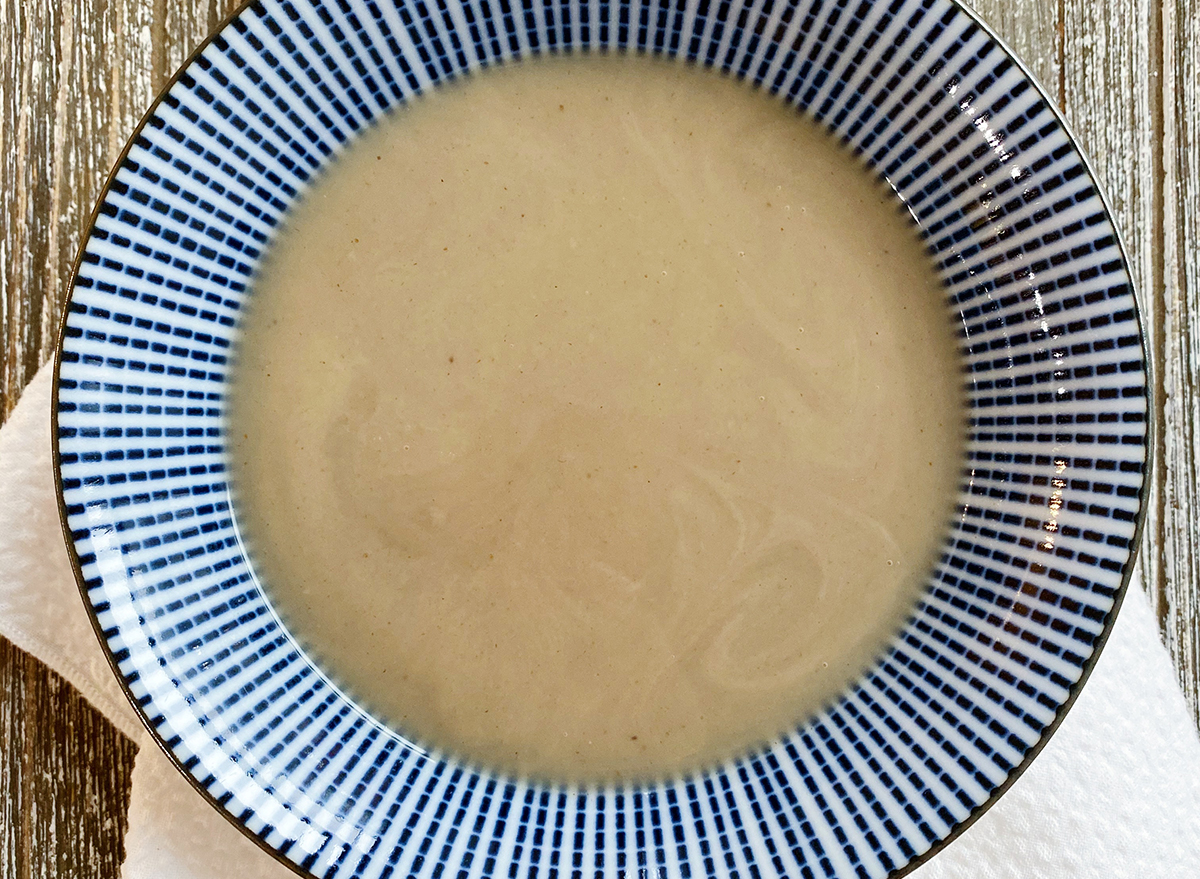 This creamy mushroom soup is Whole30 compliant and dairy free!
Get our recipe for Creamy Mushroom Soup. 
Looking to cut down on your carb intake? This recipe swaps the starchy noodles with zucchini "zoodles" without compromising on any of that chicken soup flavor you love.
Get our recipe for Instant Pot Chicken Zoodle Soup.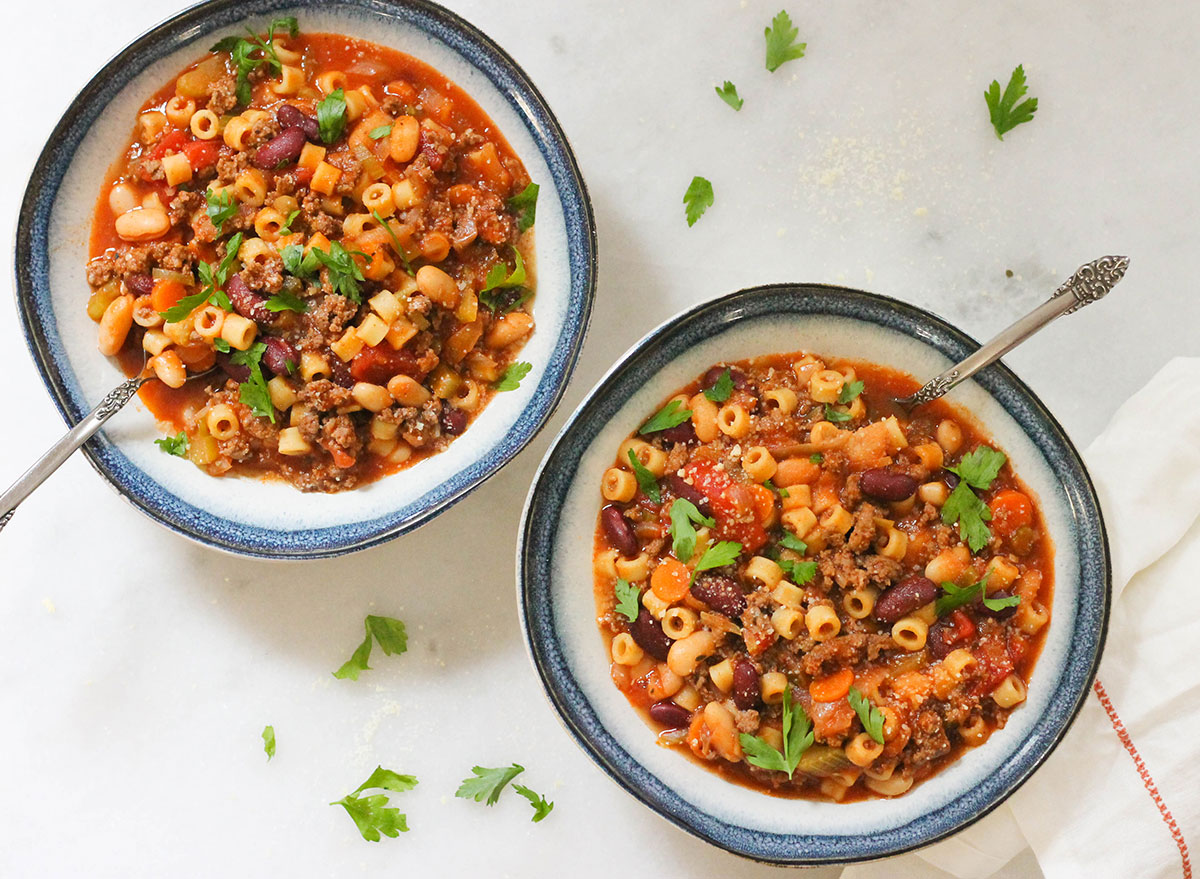 Obsessed with Olive Garden's Pasta Fagioli soup? This copycat recipe breaks down each element of the classic favorite and makes it easy to throw together at home.
Get our recipe for Copycat Pasta Fagioli Soup: Olive Garden's Recipe.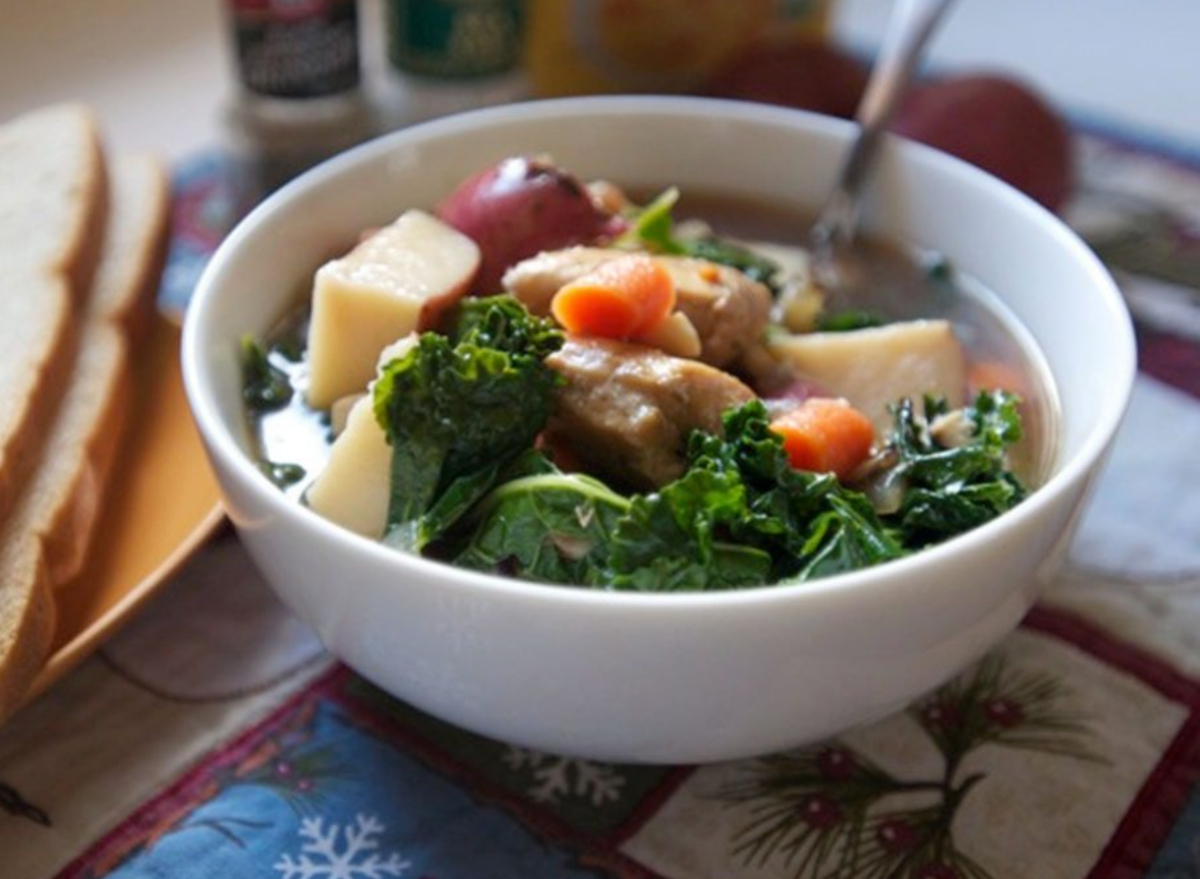 Use up that leftover bunch of kale in the fridge and make this potato and kale soup! It's the perfect filling soup recipe for weight loss.
Get our recipe for Potato and Kale Soup.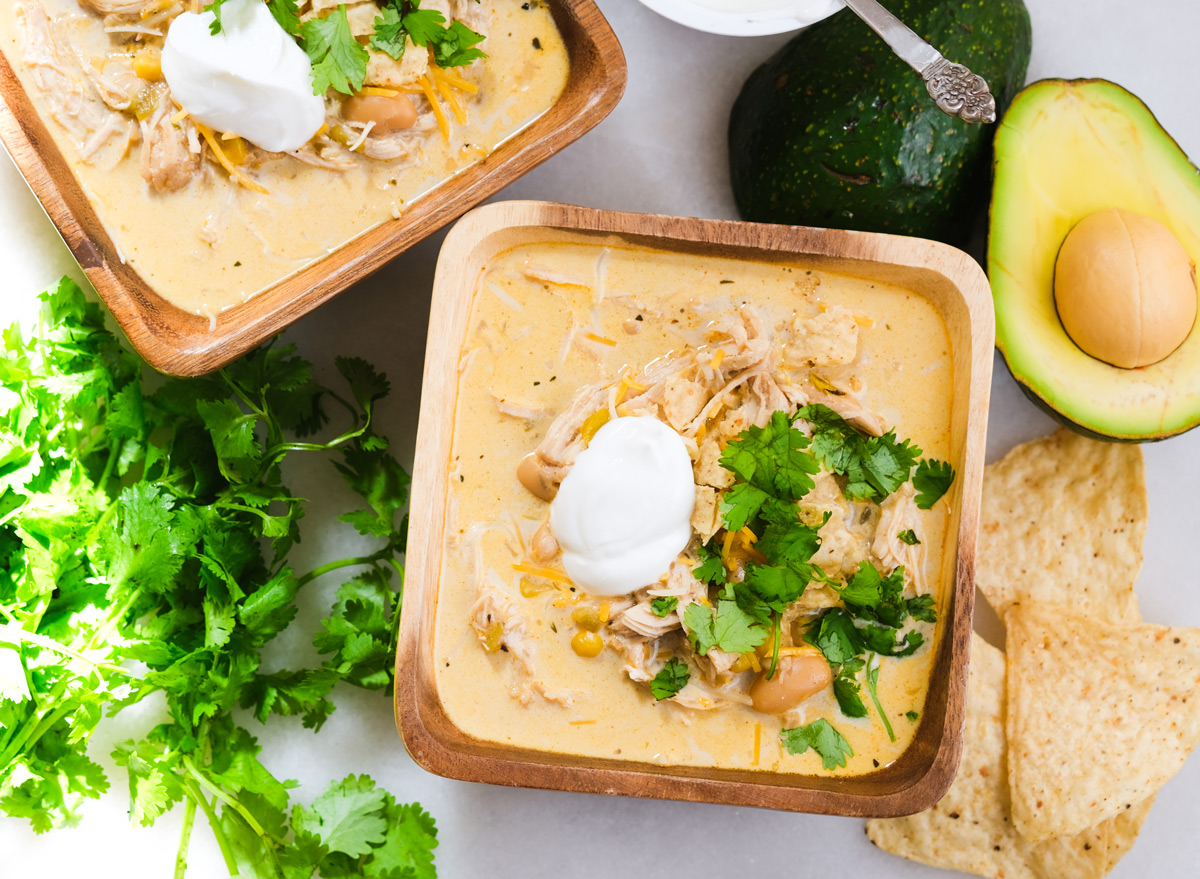 Instead of that usual tomato-based chili, this white chicken chili is creamy spicy and filled with good-for-you ingredients.
Get our recipe for Instant Pot White Chicken Chili.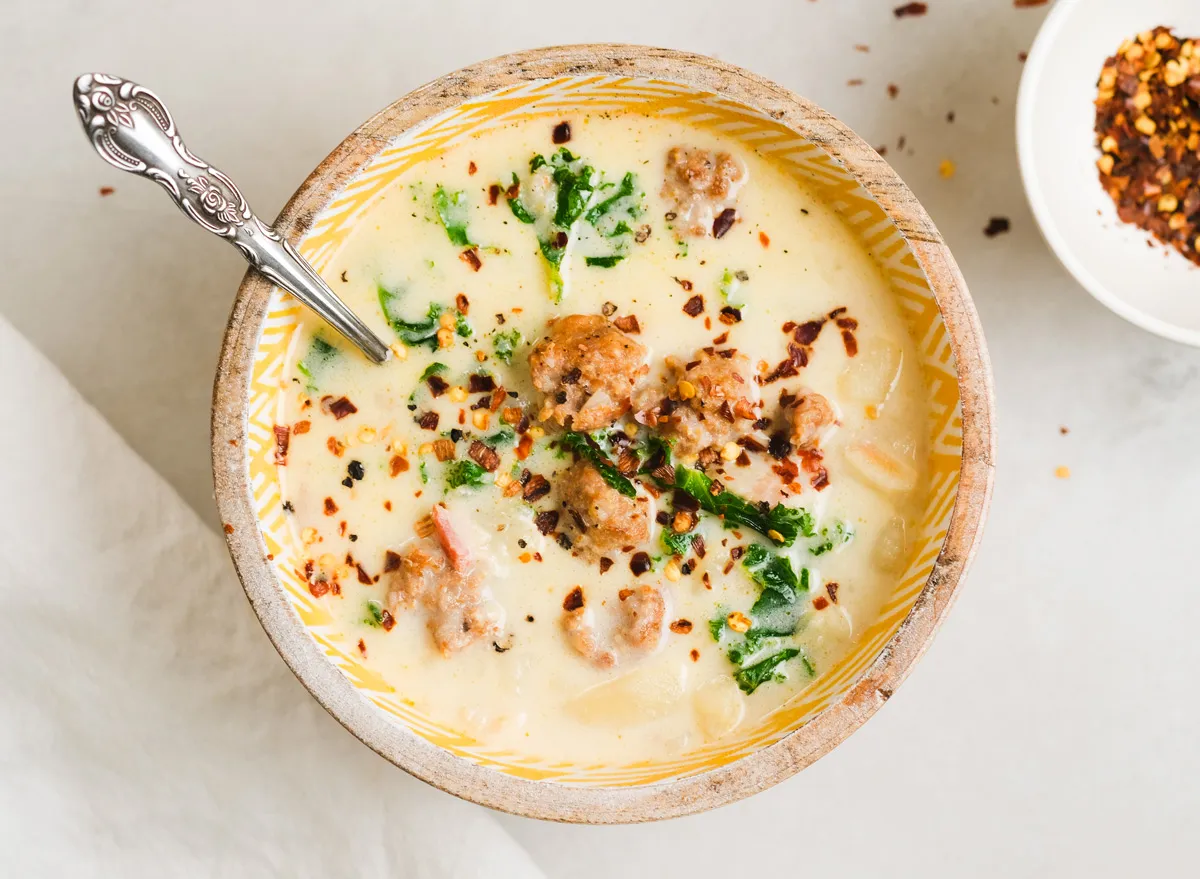 Between the spicy sausage and the creamy broth, this soup is a surefire winner if you're making soup for a crowd.
Get our recipe for Instant Pot Zuppa Toscana.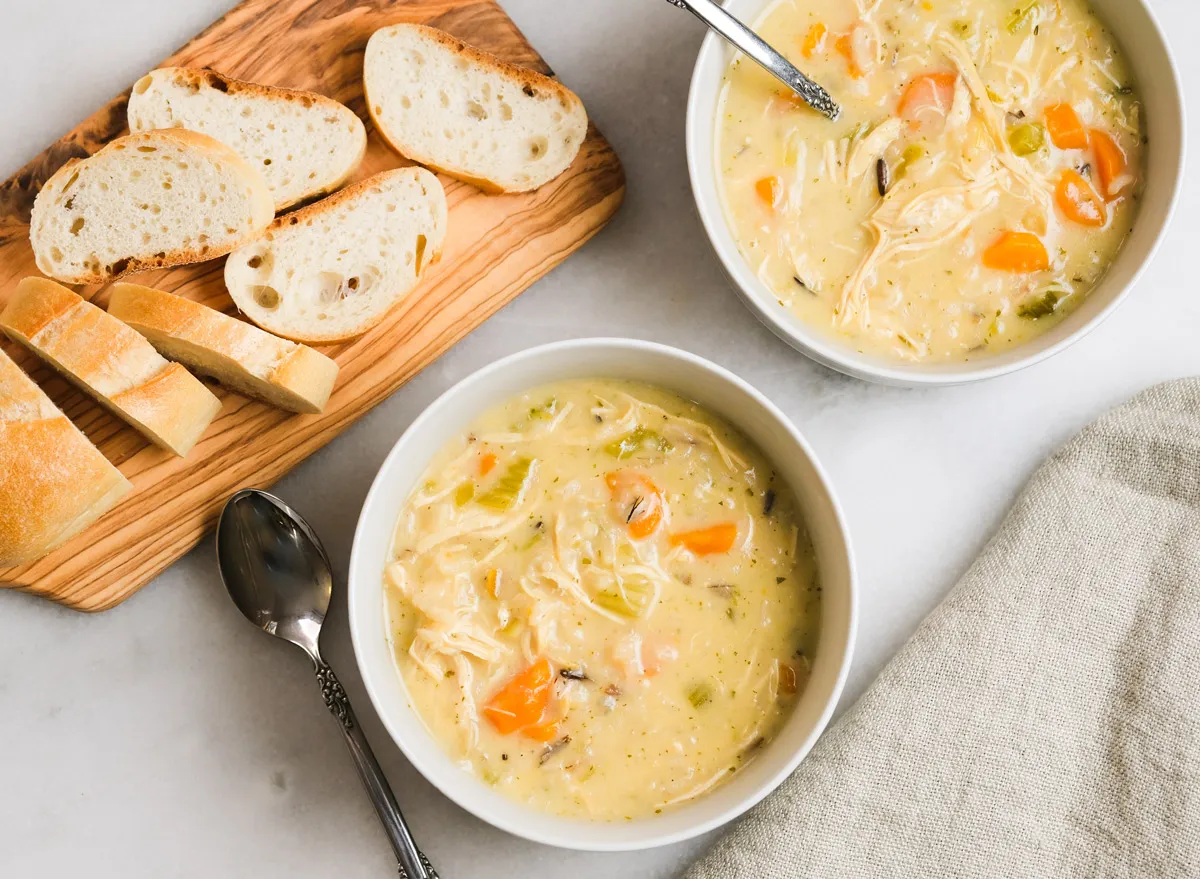 This classic dish is made even simpler with this easy-to-make Instant Pot recipe!
Get our recipe for Instant Pot Chicken and Rice Soup. 
https://www.eatthis.com/cozy-soup-recipes-for-weight-loss/